When they think of watches, most people automatically assume Rolex is the best brand on the market. However, when compared to Omega, is that really the truth? Are you a victim of the expert marketing team Rolex has put together? Is Rolex truly the better brand? Or, does Omega measure up? What is it that people see in Rolex that makes it so much better, and is it Omega's own fault for its second-place ranking?
Is Rolex really better than Omega?
An In-Depth Look At The History of Rolex and How It Shaped Its Future
Rolex is younger than Omega (on paper), with its history dating back to the early 1900s (1902), when it was first established in London. First known as Wilsdorf and Davis, Hans Wilsdorf, with the assistance of his brother-in-law Alfred Davis would import quality movements of Hermann Aegler and insert them in high-quality watches from Dennison and other similar companies.
However, it was 1908 when Wilsdorf registered the Rolex trademark and opened its first office in Switzerland. Due to the wartime taxes imposed on luxury goods and products (such as gold and silver), Wilsdorf made the decision to leave England in 1919. He relocated the company headquarters to Geneva, allowing him to work more closely with his Bienne suppliers.
In 1926, some years after its first founding, Wilsdorf came up with the first waterproof wristwatch, using its proprietary waterproofing system called the Oyster case. Combining the system with a threaded crown, Rolex became the first company to come up with such a design.
As impressive as the technology has been, Rolex's claim to fame was its development of a product line and sticking with it. One such line that is bound to be forgotten these days is the Rolex Cellini series. It was similar to what Omega came up with, but there were so many watches of that series. However, it wasn't all that popular and well-known, so most people today don't recognize the line.
Rolex does have one key thing going for it, and that's consistency. It's something the company has been doing since its inception in 1920. They've come up with a catalog of products and made sure not to deviate from the line. As such, customers became loyal to the brand, making it harder for newer companies (or even established ones) to compete in the market.
Today, the complaint is that Rolex isn't moving beyond what it already has or that they're afraid to take risks and stick with what they have always known. This is something the company knows and recognizes, but it's something they are okay with doing. It's a deliberate tactic. What the company is doing is opening up lines of communication with its audience. People will know what they get from their Rolex, and they want to remain as transparent as possible.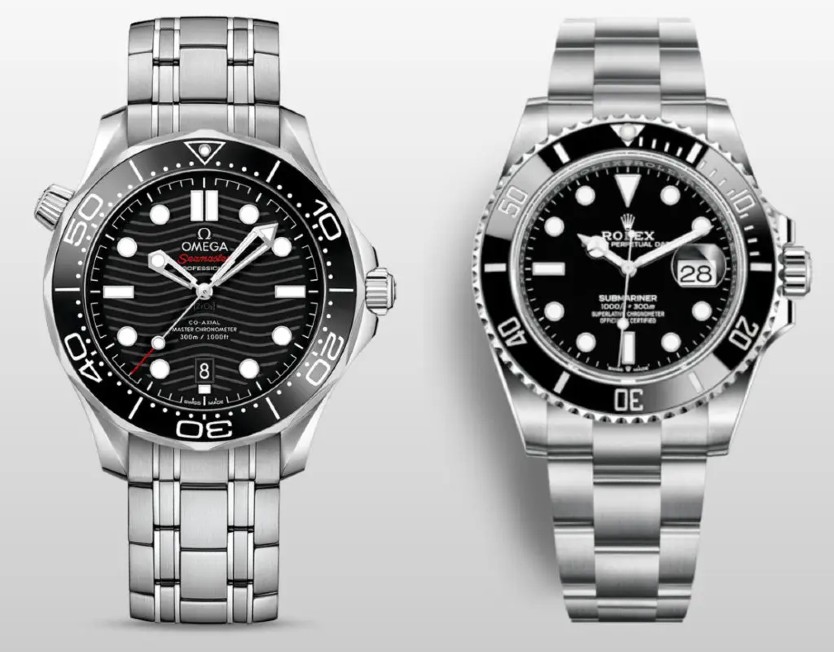 Rolex wants people to have this invaluable image in mind because it makes them realize that they are getting exactly what they pictured.
Rolex's ability to increase its consumer base and become the best of the best in the watch industry stems from three primary tactics:
• Effectively communicating with their consumers
• Sticking stubbornly by their catalog
• High consumer confidence
What makes Rolex such a profitable brand compared to other watch manufacturers such as Omega? It's a family-owned corporation. This means no other entity has the ability to make decisions for the company and its direction and more. It's the kind of watch that athletes, artists, various industry and sector pioneers, and everyday laymen choose to use in their daily lives or when on an adventure of a lifetime.
An In-Depth Look At Omega's History and How It Shaped Its Future
Omega was established in 1848 by Louis Brandt, and has manufactured numerous watches in its long history. Since its founding in the mid-1800s, it's been producing various reference numbers that are obscure and random. Many of these random numbers were just downright confusing to customers.
This is what makes Omega different from Rolex. It is the same issue and risk that people have chastised Rolex for. Since Omega ensures it doesn't follow its catalog and line of products, nobody understands the differences in the watches. They may recognize the Seamaster and Speedmaster but may not be aware of the Railmaster. Due to the randomness of it all, people are overlooking many cool watches.
Omega's many reference numbers, variations and movements do not bold well for the company as a whole!
The company developed the first-ever tourbillon wristwatch with 30l. There were 12 movements of these designed for the observatory trials of Kew-Teddington, Geneva and Neuchatel eventually called the Omega Observatory Tourbillons.
Unlike Rolex, which is a family-owned company, Swatch Group controls the Omega Company. This means it determines what kind of movements it uses and where it can go. For instance, it's not permitted into Baselworld, which is terrible for Omega. Swatch Group won't even allow the company to show off its new watches, unlike Panerai, Rolex, Vacheron, etc.
Obscurity is the worst thing brands can do to themselves, which is what Swatch Group is allegedly doing to all its brands when they're not permitted to attend Baselworld. When more people recognize you, more talk is generated that hopefully turns into consumers becoming customers.
Omega always appears to be running second to Rolex. For older generations, Rolex is the James Bond of watches. In fact, James Bond portrayers would wear Rolex watches such as the Rolex Explorer or the Submariner. When Sean Connery was playing James Bond, he'd wear the Rolex Submariner.
However, in the books, the watch contained a numeral bezel, which many equated to being the Rolex Explorer or the Rolex Submariner. For newer James Bond fans, the watch the Secret Intelligence officer is wearing is the Omega Seamaster. Some may equate Omega has a wannabe Rolex, but it's definitely not the Omega when it comes to what James Bond is really wearing.
Is there anything good about the Omega that bests the Rolex brand? Well, one thing it does do better is chronographs, but the company has made a surplus of them. Again, too many variations and randomness in numbers affect its customer recognition.
Omega may be an older company compared to Rolex, but the total randomness of it all has hurt its overall image. Way too many reference numbers mean an excessive amount of different watches. When people think of Omega, their minds may automatically go to the Speedmaster, but it's not the only watch product line out there.
The company has diverged so much over the years, but it's recently spent its time cleaning up the damage by sprucing up the catalog. Is the damage already done for the brand? Most people think yes, as watch buyers often look to the Rolex brand for their watch needs. As such, Omega may always be playing second fiddle to Rolex.