Rolex has many watches on the market, but it's most popular seems to be the Rolex Submariner. As such, it's copied both as a replica and a homage.
When you choose to wear a Rolex watch, it comes with two things:
• A duty to uphold its prestige
• A symbol of the company's heritage
What does this mean? It means you must exude proper, respectable and esteemed behavior. Still, some individuals don't think about the status the company brand does for them. Instead, they are more concerned with the design and how it fits them. For them, it's not about the prestige a Rolex can bring, but how the watch looks on them. These people may be better suited with a homage Rolex.
There are several popular homage Submariner Rolex replicas watches on the market to choose from, but the three most popular are:
• Invicta 8926 Pro Diver
• Parnis Submariner
• Seiko SNFZ17 "Sea Urchin"
Invicta 8926
Invicta 8926 looks eerily similar to Rolex's Submariner 16610 and is quite popular perhaps for that very reason. Although similar in its overall appearance, there are some notable differences between the watches. What are the differences in the Invicta watch?
• The Invicta case is nearly identical to the Submariner other than the deep engraving of its name. This is not something usually seen with homages, which makes it all its own.
• Its dial is also similar to the Submariner, but a closer look shows that it has just a 1.5x magnification. Its indices are super tiny and not printed on the watch.
• Invicta has hollow links, so the clasp is thin and stamped (unlike a genuine Rolex).
• It uses the Seiko NH35A movement, which is considered cheap in terms of reliability, craftsmanship and quality. However, it is robust and tends to last.
• It's also waterproof up to 200 meters (660ft.).
The cost of the watch runs in the mid-$100 range and is more affordable than an actual Rolex watch. And, even though it's a homage to Rolex's Submariner 16610 watch, the material quality doesn't measure up to that watch.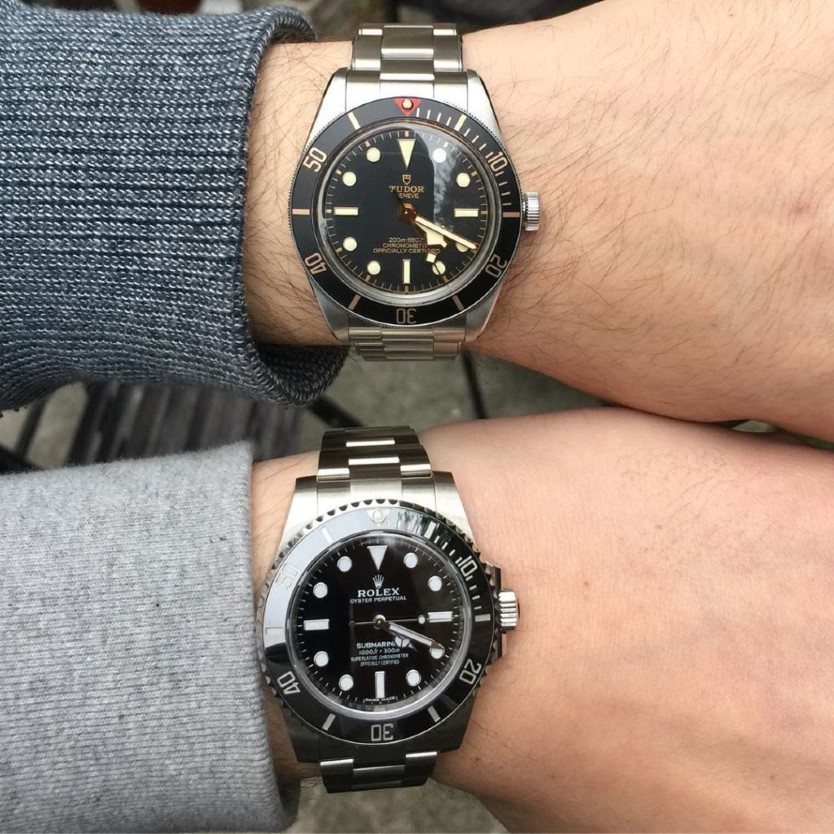 Parnis PN K66 Submariner
One of the largest homage brands in the country of China is Parnis PN K66 (Submariner). There are homages for a majority of big-name brands, and the Submariner is no different. This model has two versions and has a logo on the dial.
It's similar to Rolex's Submariner 116610, equipped with a Chinese 21 jewel quartz movement. It's not all that reliable but replacing it is inexpensive.
The company claims it's waterproof up to 30m (100ft), but this may or may not be accurate due to the way it's assembled and its material quality. Still, it's got a price of under $100 and is a reasonably-priced homage to Rolex.
Seiko SNZF17 "Sea Urchin"
This watch goes all the way to the 1880s, which means it's older than Rolex. However, the Sea Urchin is a homage to Rolex Submariner with many identical aspects to the Oyster bracelet such as bezel, dots and marks. Still, it comes with a non-magnified date window and week-day abbreviature. It's larger than the original Submariner and has an in-house Seiko automatic movement.
It is the ideal watch for daily wear-and-tear use, and it's one of the most affordable and popular Seiko watches available to buy. Why should you consider this watch for yourself? And, how does it differ from an actual Rolex Submariner watch?
• It's a dive watch with many iconic design traits you'd see in a dive watch. Its case is durable even though it's bulky at 41mm.
• Even though it's robust and large, people with small wrists can use it.
• The watch includes a push-pull crown situated at three and is guarded by inconspicuous crown guards. This is something usually seen with a modern dive watch. This crown sits inside the case, surrounded enough to be safe.
• The movement of the Sea Urchin comes from the company's 7S36 movement, which is a reliable and durable automatic mechanical movement. The movement gets its power from the inner rotor and displays the date, day, seconds, minutes and hours.
• The SNZF17 dial highlights the watch's personality, which is clean and straightforward and has 60 individual minute/second markers.
• At the 12, the company displayed its Seiko5 logo.
• The watch has a fold-over clasp, with a durable 22mm three-link stainless steel bracelet with removable end links.
These three watches pay homage to the Rolex Submariner. If you want a watch that looks similar to this Rolex design, any one of these three will be what you need to choose.